Dave Edebohls
(Proprietor)
Bio:
Dave graduated from the esteemed ESTT College of Natural Medicine in 2008 and received the Anne Bate Scholarship Shield during his time there. He travelled to China and studied at Nanjing University of Traditional Chinese Medicine while working in hospital settings.
After working with Chiropractic clinics in Melbourne, in 2010 he opened Chadstone Massage Centre. In 2020 he changed the name to Eastern Melbourne Remedial Massage.
Dave is a keen participant in many sports, including Football, Tennis, Swimming, Long Distance Running, and Martial Arts. Due to this he is well aware of the associated aches, pains and occasional injuries that can occur in sports, giving him a greater insight into the best preventative measures to take to avoid or minimise pain.
Possessing the highest Australian qualifications in massage, Dave prides himself on professional and caring service, and is always interested in new and innovative practices.
Qualifications:
Diploma of Health Science (Medical Massage)
Diploma of Remedial Massage
Certificate IV in Tactile Therapies (Sports Massage)
Certificate IV in Tactile Therapies (Relaxation Massage)
Certificate IV in Massage
Certificate IV in Athlete Support Services
Certificate of Clinical Practice of Tuina (Nanjing University of Chinese Medicine)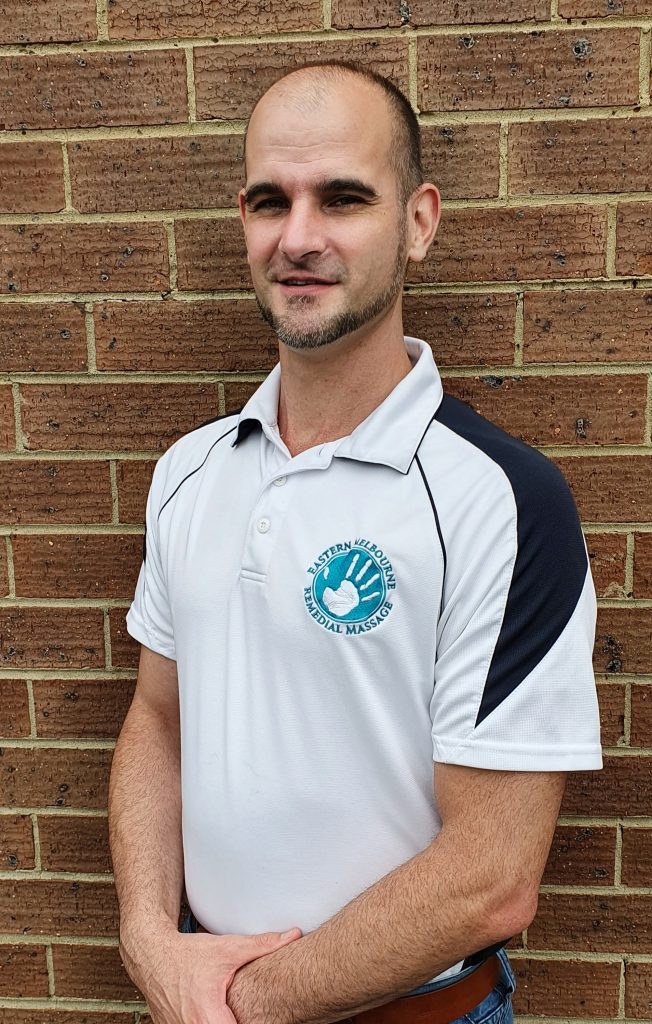 Steven Sass
Bio:
Steven has been a Professional Holistic Health & Massage Therapies practitioner since 2004, having also graduated from E.S.T.T College of Natural Medicine, earning placement on the Acknowledgment Shield of his graduating year.
With experience in the Clinical, Spa and Sporting arenas, he has received Silver Eminence recognition for his contributions and delivery of excellence from Hamilton Island Enterprises.
Steven has treated athletes at State and National level, supporting Ironman, triathlon and half-marathon competitors. With a strong passion for helping people overcome and rehabilitate from injuries, assist with maintaining an optimum quality of life and providing practical insight and tools to maintain health and well-being.
Currently Steven is pursuing a double bachelor's degree in Chinese Medicine at RMIT to further increase his professional scope of practice.
Qualifications:
Diploma of Remedial Massage
Certificate IV in Massage Therapy
Certificate IV in Relaxation Massage
Certificate IV in Polarity Therapy
Certificate IV Trainer/ Assessor
Level II Reiki Practitioner (Usui Method)